Department of Chemistry and Chemical Engineering
Disciplinary research at Institut Polytechnique de Paris is based on the expertise of its founding schools. Chemistry and Chemical Engineering is one of ten disciplinary research fields bringing together top researchers and PhD students at state-of-the art laboratories and facilities.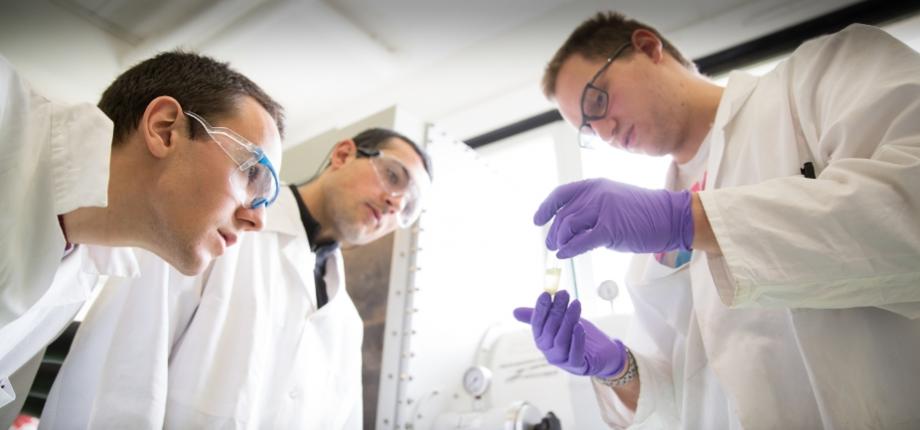 Chemistry is a natural science that describes and explains the formation of the minerals, fauna and flora around us, at the most microscopic level. It also plays a role in all levels of human activity   (food, housing, transportation, health, communication etc.) Understanding its language is essential in order to respond to the societal and economic challenges of tomorrow. 
New concepts and a wide range of theoretical (DFT, ELF etc.), synthetic (new reactions etc.) and analytical (XR, EPR, NMR etc.) methods have radically changed this science. Such fascinating objects as fullerenes, carbon nanotubes or high-temperature superconductors are the result of the work of chemists. Chemistry will address an array of challenges in the years ahead in fields such as materials science, healthcare, energy and environmental protection. 
Fundamental and applied research in chemistry at the Institut Polytechnique de Paris aims to:
produce new knowledge from fundamental research using cutting-edge methodologies, processes and equipment
develop new chemical processes to respond to societal challenges such as environmental protection and energy production, storage and transportation 
innovate to apply these methodologies in the agrifood, healthcare, tech and other industries
World-class research areas
Molecular chemistry

Methodology in organic and organometallic chemistry 
Chemistry/Biology interface, biomimetic synthesis, natural products chemistry
Catalytic chemistry of biomass and waste conversion 

Materials science

Structure-property relationships in nanomaterials and thin films
Materials characterization (optical spectroscopy, Raman, environmental X-rays, in-operando electron microscopy etc.)

Surface and interface engineering

Surface engineering, sensors for diagnosis and IoT

Chemistry for energy and the environment

Electrochemistry and catalysis for energy storage, water quality and biomass conversion
Laboratories
Members of the Education and Research Departement
The research strategy in this field is implemented by researchers from Institut Polytechnique de Paris schools. They work together to conduct world-class research at state-of-the art facilities.
Head of the department

Thierry Gacoin
Learn about our schools' research in this field
Course Finder for Chemistry