The Health Center of the Institut Polytechnique de Paris (IP Paris) welcomes the agents and students of IP Paris. The Health Center team is at your disposal to help you carry out your studies and work in the best physical, psychological and social conditions.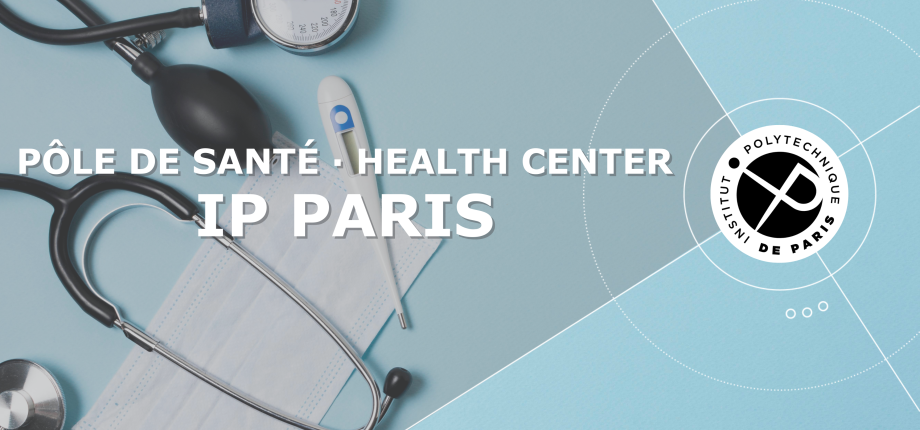 Presentation of the Health Center
Where to find us ?
The Health Center is located at Pavillon Broca
Votre Coordinatrice du pôle de santé - Mme ROSSI Elisabeth est joignable :
Your Health coordinator - Ms. Elisabeth ROSSI can be reached:
Opening hours of the Health Center:
From Monday to Thursday : 8:30am-12pm / 1:30pm-5pm
Friday : 8:30am-12pm / 1:30pm-4:15pm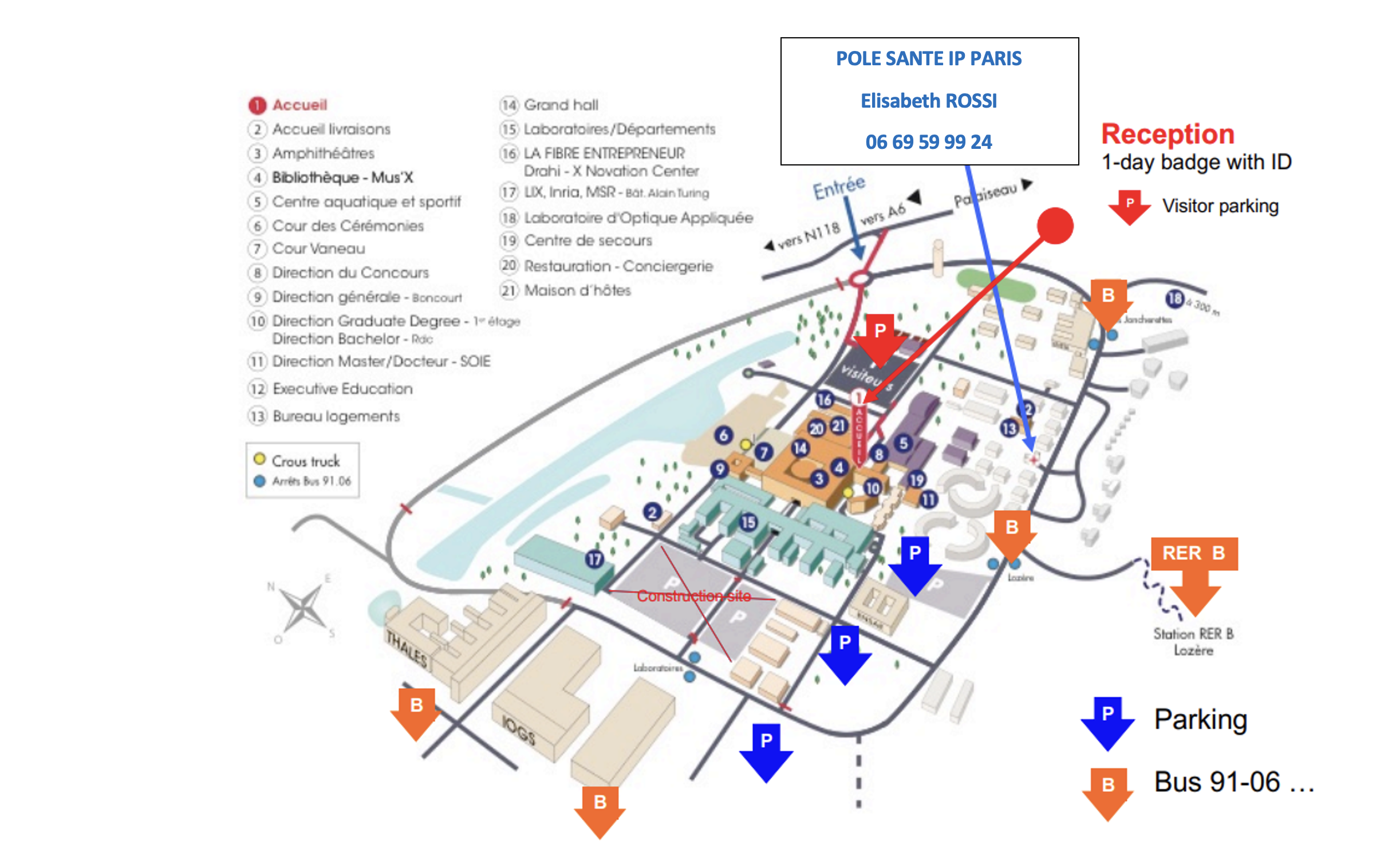 Emergency numbers
In case of emergency, contact:
FIREFIGHTERS : 18 or Site de l'Ecole polytechnique : 01 69 33 34 33
SAMU : 15 or by using a mobile 112
SOS MEDECIN : 36 24
Nearest Emergency Department - Orsay Hospital : 01 69 29 75 62
SOS MAINS - Yvette clinic : 01 86 86 91 91
Fernand Widal Poison Control Center : 01 40 05 48 48
Listening platforms
The free Nightline Saclay evening listening service for students by students can be reached from 9pm to 2:30am: https://www.nightline.fr/saclay / Mobile: 01 85 40 20 10 or Chat/English Line from Thursday to Monday from 9pm to 2:30am.

The www.soutien-etudiant.info platform is also at your disposal and lists of resources and free psychological support available throughout France for students.

3114: Professional and confidential listening 24h/24-7d/Week - Free call

Respi Relax: Stress management website

EPSIKOI: Auto Aide. Website only in French.
Social security and student insurance
Remember to register yourself with the health insurance and to subscribe to a healthcare mutual!
In order to better prepare your academic year, think about making your healthcare mutual and health insurance arrangements. Having health insurance (or social security) is mandatory to carry out your studies.  On average, health insurance covers only 70% of your medical expenses. To access better coverage of your costs, you can subscribe to a health supplement (or Healthcare Mutual).
Pharmacies
You will find two pharmacies on the campus where you can buy medication with or without a prescription: Pharmacie de Lozère (15 min walk) or Pharmacie des écoles (10 min bus ride, Place des causeuses in Palaiseau).
To purchase medication with a prescription from your doctor, you will need to present your "carte vitale" or your "attestation de droits" (ameli) in order to obtain a partial reimbursement from the social security; as well as your "tiers payants" card if you have a "mutuelle" insurance company.
If you have a carte vitale, the request for reimbursement is done automatically, but if you do not have one yet (new student), the pharmacy must provide you with a document ("feuille de soin") that you will have to fill out and send to the CPAM (primary health insurance fund) to request reimbursement.
Several specialists are at your disposal at the Health Center
General Practitioner
Doctor Isabelle MERLI is present two days a week on Tuesdays and Thursdays from 9:30am to 12pm and from 1:30pm to 6pm.
She only receives students who do not currently have a doctor assigned to the IP Paris schools.
To make an Appointment contact Ms. Elisabeth ROSSI - Coordinator of the Health Center: 01 69 33 39 31
Physiotherapy
You can find at your Health Center physiotherapists from Monday to Friday.

Click here to make an appointment
During your appointment, please remember to bring:
Your prescription
Your Carte Vitale (or certificate of rights)
Your medical imaging
Payment is made by check, transfer, cash or credit card (with the exception of Ms.Clabassi Lara who does not accept the credit card).
Any session not cancelled 24 hours in advance will be considered as due
Thank you for your understanding
Osteopathy
You have the opportunity at your Health Center to make an appointment for osteopathic consultations on Mondays afternoon, Wednesday morning and Friday all day.

When to see an osteopath? When you feel:
Pain in the neck, headache,
Pain in the shoulder or trapezius,
Pain in the elbow, wrist or hand,
Pain in the middle or lower back,
From the pelvic pains,
Pain in the knee, ankle or foot,
Discomfort/ digestive pain.
Where to consult?
At the medical center on the Polytechnique campus, building 16.
How to consult?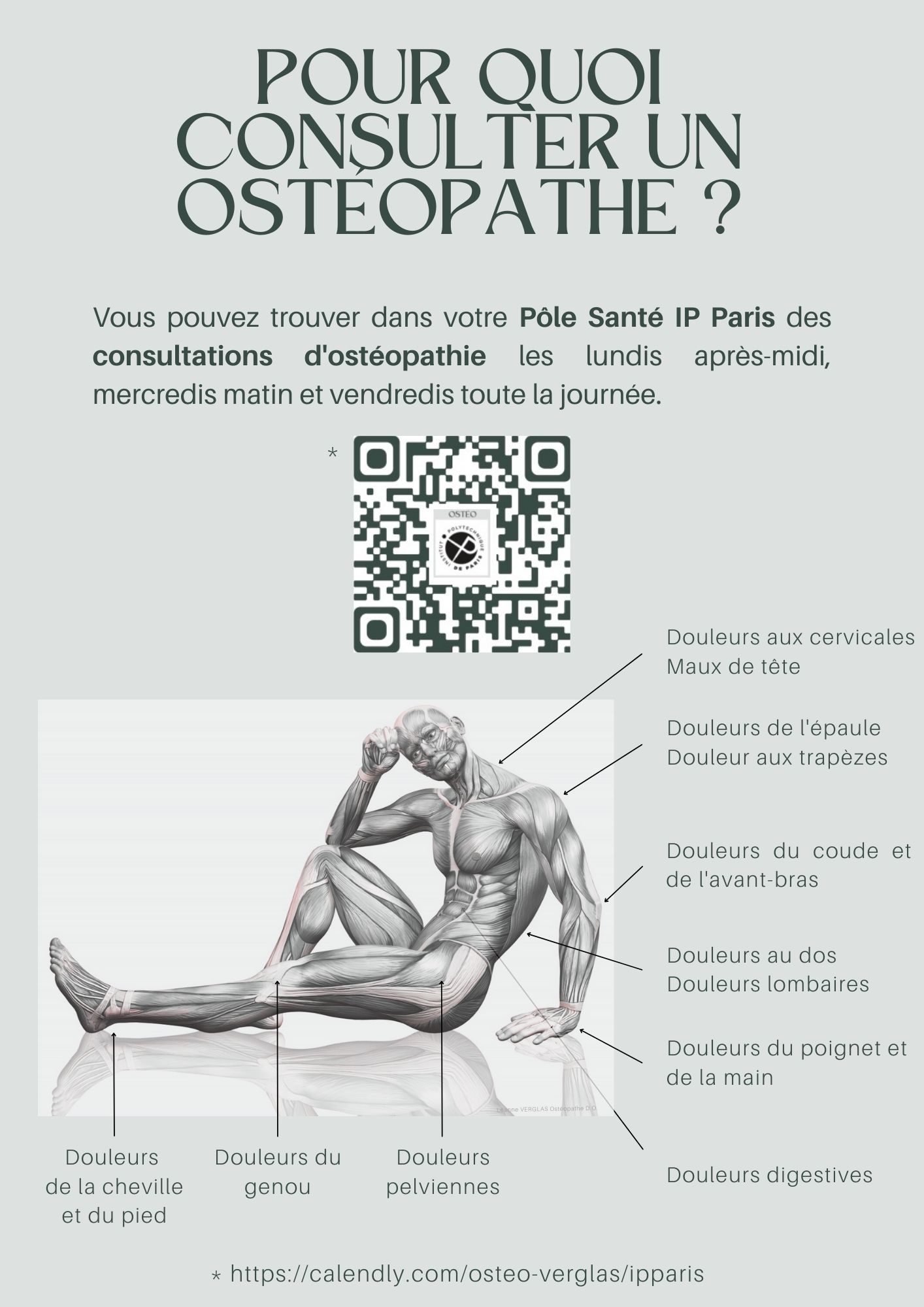 Qare Teleconsultation Offer
The Institut Polytechnique de Paris and its member schools have chosen to offer you a full quality health program combining access to care and medical care: Qare.
Do you need to see a general practitioner or specialist but you lack time or your schedule is not compatible?
Having trouble finding an appointment with a practitioner near your home?
With Qare, you will be able to consult a doctor by video from home, from your establishment, or from abroad, every day of the week from 6am to midnight! You can also conduct physical consultations at the premises of the partner Health Centers in Qare.
The consultations will be free of charge thanks to the offer made for you by the Institut Polytechnique de Paris and its member schools.
Registration for Qare takes place in two stages: You have received an e-mail directing you to a questionnaire to complete your identification information and especially your student or professional e-mail. Then a second e-mail will be sent by Qare to activate your account. This registration is free.
Attention: Any registration in Qare outside this process will not be considered.
If you encounter difficulties on the platform please contact:
The student/agent of your member school.
Your IT support (Qare) for technical problems (service-client@qare.io ou au 01 86 76 10 32) from 6am to midnight), the Qare customer support is also available via the chatbot of each patient space (green insert at the bottom right of the site)
Your account manager: Ms. Dedje by email: marie.dedje@healthhero.com ou téléphone : 06 33 65 59 20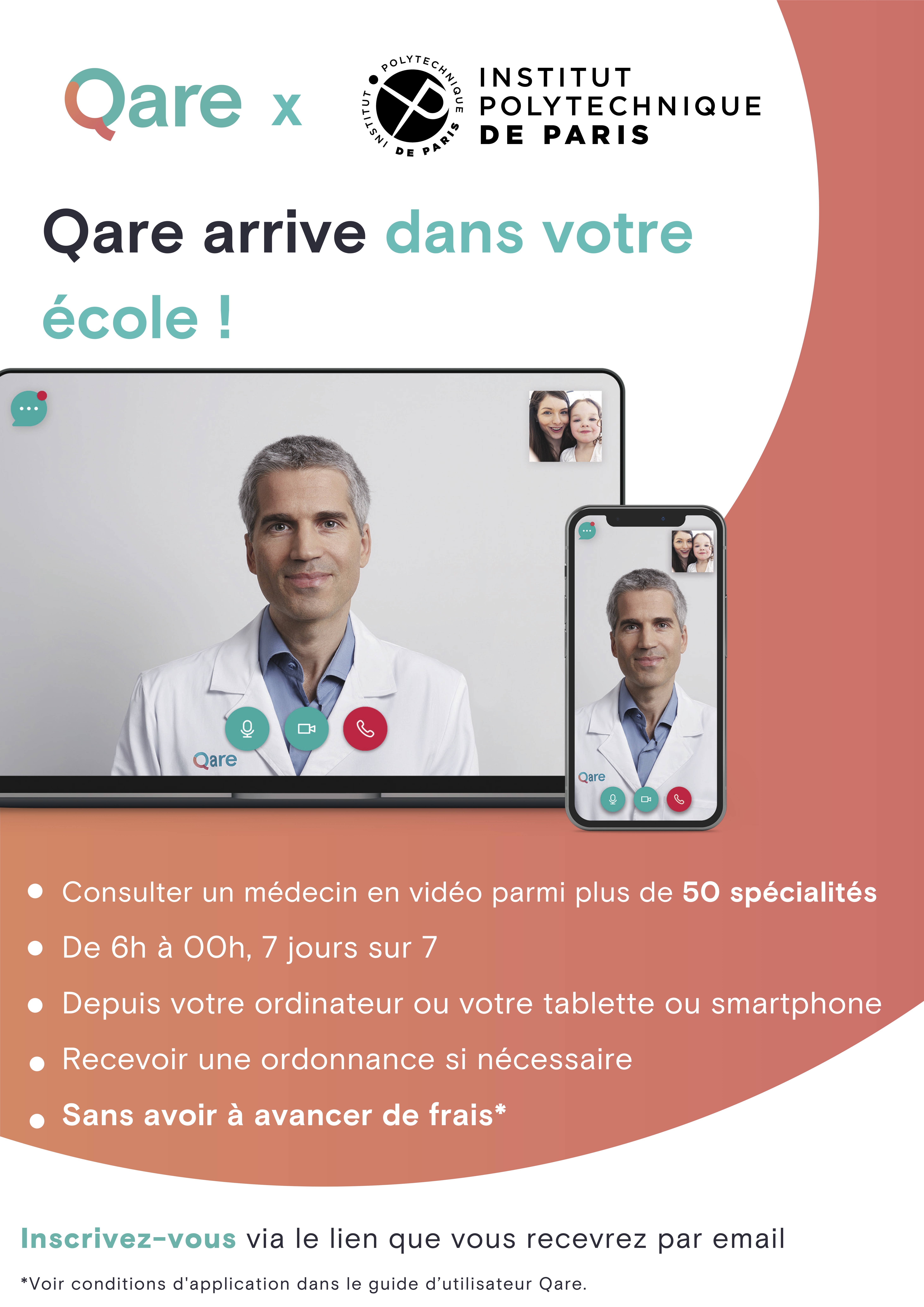 Below are the different foreign languages spoken by QARE doctors:
| | | | | | | |
| --- | --- | --- | --- | --- | --- | --- |
| Name | First name | Occupation | Language 1 | Language 2 | Language 3 | Language 4 |
| QUETTIER | Florence | Psychologist | English |   |   |   |
| PEZET | Sarah | Psychologist | English |   |   |   |
| BOUZIANE | Nadia | General Practitioner | Arabic | English |   |   |
| BRY | Marie-Laure | General Practitioner | English |   |   |   |
| HINTZY | Diane | General Practitioner | English |   |   |   |
| HALABI | Raghid | Pediatrician | Arabic |   |   |   |
| MASSON | Gabriel | Rheumatologist | English |   |   |   |
| DOBRIESCU | Lavinia | Psychiatrist | English |   |   |   |
| DURANTEAU | Alain | General Practitioner | English | German |   |   |
| KARB | Annelise | General Practitioner | English |   |   |   |
| KHORCHEF | Mokhtar | General Practitioner | Arabe |   |   |   |
| GUIEP | Thong | General Practitioner | English |   |   |   |
| HEIJMANS | Paula | General Practitioner | English | Dutch |   |   |
| BOUKHOBZA | Amélie | Psychologist | English |   |   |   |
| MELOT | Bénédicte | Infectious Disease Specialist | English | German | Spanish | Italian |