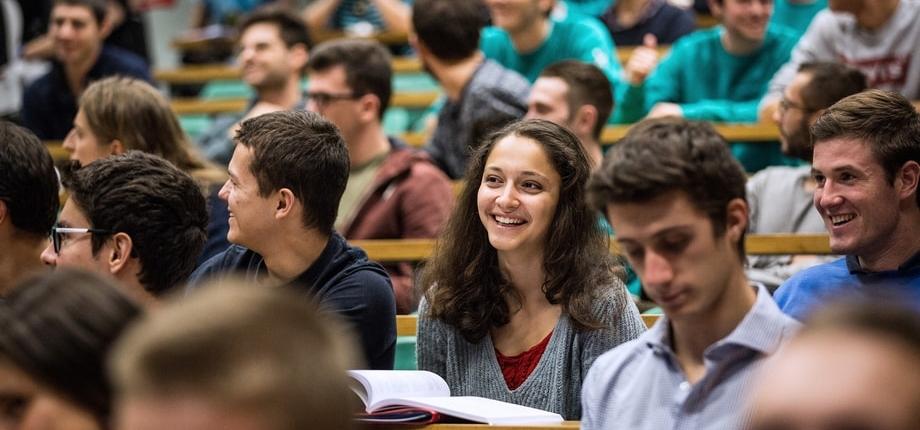 The distinctive French Ingénieur program
Earn a Graduate Engineering Degree from a French top-ranked School of Science and Engineering
---
Features of the French Ingénieur Program:
Grants graduates the "Titre d'Ingénieur" (Master of Science in Engineering) and confers the European degree of Master recognized worldwide
Highly selective admissions
Elite education 
Exciting and successful careers
A multidisciplinary program offering:

Fundamental Sciences: Mathematics, Physics and Chemistry
Engineering Sciences
Economics
Quantitative Social Sciences
Business, Management and Innovation
Humanities (Sustainable Development, Corporate Social Responsibility, Ethics)
Internationalization Skills (Foreign Languages, Cross-cultural Management, Geopolitics)
Soft Skills (communication, critical thinking) and global perspectives
Strong ties to companies (education, research, management)
Rich opportunities for internships, mandatory in the curriculum
Access to research laboratories associated with Doctoral Schools
Opportunities to pursue a PhD after graduation
Why choose the IP Paris graduate engineering program?
IP Paris will enable you to:
Reap the benefits of France's most elite education in Engineering
Customize your program of study
Establish ties with major international companies (internships, chairs, joint-labs, sponsorship opportunities, coaching, guest lecturers)
Take advantage of high quality campus infrastructures for study, sports and leisure
Become a PhD candidate upon graduation, especially in one of the 30 IP Paris Laboratories
Rapidly integrate the workplace, 95% of graduates are hired within 4 months
Qualify for high-level professional positions
Earn a top entry salary
Be the high profile candidate for international companies, SMEs, start-ups
Have career opportunities in a wide range of sectors, including IT, deep-tech, finance, energy, environment, transport, cybersecurity, nanotechnologies, AI, data science, robotics 
Join the forces of a strategic alumni network including the CEOs of major international companies, entrepreneurs and renowned researchers
International admissions
IP Paris organizes three different international admissions processes for entrance to the five, member engineering schools:
Highly competitive IP Paris entrance examination described below.
Double-degree programs: ENSAE Paris, ENSTA Paris, Telecom Paris and Telecom SudParis recruit students through their double-degree programs. If you are enrolled in a double-degree program at an institution which has an agreement with one of these four schools, please contact your international relations office to find out if you qualify and how to apply.
Concours (CCMP) : The CCMP entrance exam concerns French-speaking students from scientific preparatory programs (classes préparatoires)  to enter French-speaking "Grandes Ecoles". More details here.
Concours (FUI-FF) : The FUI - FF entrance exam concerns French-speaking students of foreign nationality who have completed scientific preparatory programs (classes préparatoires) in French-speaking countries. More details here.
Institut Polytechnique de Paris International Admissions Exam Information webinars:
Next webinars:
Brazil, May 31, 2023: Presentation of the admission program, click here.
Brazil, July 5, 2023: Exchange with students or alumni of IP Paris schools click here.
2022 Webinar Replays:
2021 Webinar Replays:
Admissions calendar for the 2024 intake
March 2023:
Online applications open
September 7, 2023:     
Online registration deadline to submit the application with all the required supporting documents
September 29, 2023:     
Notification of eligibility
October 10 to 25, 2023:
Publication of the convocations online  
October 23 to November 12, 2023:
Online oral exams for pre-selected candidates
November 11 to 13, 2023:
Selection of school preferences
November 21, 2023:
Final acceptance from one school
September 2024:      
Term begins
Please note that, depending on your academic background you will be admitted either in the 1st year (final year of undergraduate studies) or 2nd year (Master 1) of the curriculum.
General Admission requirements
Registration for the IP Paris international admissions exam is open to all candidates meeting the criteria below.
Applicants must have completed at least 2 years of undergraduate studies in Science, Engineering or Quantitative Economics & Finance.
An excellent background in Mathematics and/or Physics is essential for successful admission.
Applicants must be enrolled in a foreign (non-French) undergraduate program in a higher education institution outside France.
Applicants may apply from their 2nd year of undergraduate studies (Bachelor's degree) at their home university.
Applications from candidates currently or previously enrolled in the following programs are NOT ELEGIBLE to sit the IPParis International Admissions Exam:

The final year of a Master's program
A PhD program,
Special preparatory program (Classes préparatoires) for entrance to French engineering schools (Grandes Ecoles),
Programs offered by a higher education institution in France.
To apply, no knowledge of French is required. The full application process as well as all the entrance examinations can be sat either in English or in French
Specific additional requirements for École Polytechnique program: 
 Applicants must be enrolled in an undergraduate degree program at their home university and must not have started a Master's program, even in another discipline.
Applicants must be under 25 years of age on January 1st, 2024.
French citizens are not eligible including those with dual nationality. Those students must apply through the French university Track.
Applicants cannot apply more than once.
Applicants must meet the medically defined criteria of physical fitness.
Application process
Initial selection
The initial selection is primarily based on the applicants' academic background, statement of purpose and reference letters.
Register online here 
Create your candidate account

Fill in the application (you can come back at any point)
Only one application per program is allowed each academic year
You may only apply through one of the application paths

Upload your documents
Submit your application before the deadline. No changes will be allowed after submission of your application.
Mandatory documents
Statement of Purpose (VERY IMPORTANT! This statement should include information about the candidate's interest in attending one or more of the five different engineering schools participating in the IP Paris international admissions exam)
CV
List of courses
Official academic transcripts of all university studies
Official university ranking certificates
Application form for international admission (official statement)
Official proof of citizenship: copy of passport or ID
Photo 
Financial resources form
Reference letters: name, title and e-mail address of at least 2 professors or academic advisors
Optional documents
Official certificates of degrees indicated in the application
Certificates of honors and prizes indicated in the application
Official score reports for language tests indicated in the application
Admission examinations
There are 3 oral examinations: Maths, Physics, General Scientific Knowledge and a Motivation Interview. Oral exams can be taken in French or in English. When possible, all the oral exams will be scheduled on the same day for each candidate. 
The oral exams in Maths, Physics and General Scientific Knowledge are designed to measure the candidate's skills and knowledge required to successfully complete the engineering programs offered at the five IP Paris member schools.
Each of the IP Paris schools weigh the exam results differently to grant admission.
The General Scientific Knowledge oral exam is an interview during which candidates analyze scientific documents. Candidates have 30 minutes to prepare the interview with the documents. Please note that documents for general scientific knowledge are not restricted to Mathematics and Physics.
The Motivation Interview is a guided conversation designed to best understand the candidate's motivation to apply for the desired engineering program.
| | | | | | | | |
| --- | --- | --- | --- | --- | --- | --- | --- |
|   | Test/Evaluation | Duration | Ecole Polytechnique (coefficients) | ENSTA Paris | ENSAE Paris | Telecom Paris | Telecom SudParis (coefficients) |
| Application File | Evaluation of academic excellence |   | X | X | X | X | X |
| Oral Exam | Mathematics | 55 min | 6 | X | X | X | 6 |
| Oral Exam | Physics | 55 min | 4 | X |   | X | 2 |
| Oral Exam | General Scientific Knowledge | 30 min prep + 30 min exam | 1 | X | X | X | 2 |
| Interview | Motivation | 20 min | 1 | X | X | X | 2 |
Learn more about IP Paris member institutions
Research and education fields of Institut Polytechnique de Paris' member Schools