Numerous services are at your disposal on the Institut Polytechnique de Paris Campuses at Palaiseau and Evry.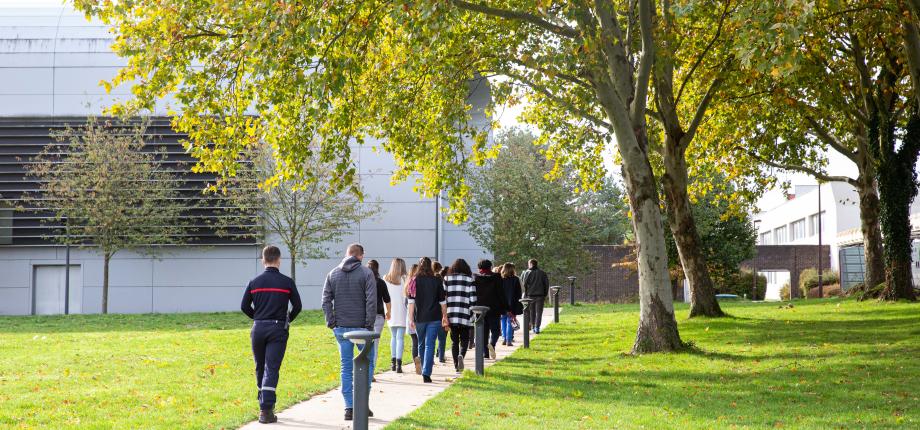 Palaiseau Campus
Dining on campus
For both little and large appetites, there are several places to eat across campus.
CROUS university restaurant
The university restaurant is open Monday-Friday at lunchtime and evenings (11:30am – 2pm and 6:30pm – 8pm). It allows you to enjoy balanced quality meals at low prices. With varied deals available, food is prepared on site with fresh produce. This university restaurant offers self-service, a cafeteria and a take-away service area.
Payments are made with your student card, top-ups can be loaded onto your card via Izly by bank transfer or card payment on your smartphone or on www.izly.fr
« Délisaveurs » cafeteria at ENSTA Paris
The « Délisaveurs » cafeteria is located on the ground floor of ENSTA Paris. You can have breakfast here before your first lecture, or quick meals at lunch: sandwiches, salads, pies, quiches, paninis, hot plates, desserts. The cafeteria is open from 8am to 6pm. Payments can be made in cash, card, student ID or with an ISIC student card.
« Le Magnan », the École Polytechnique restaurant
The Polytechnique school restaurant « Le Magnan Self » offers a traditional balanced menu at student prices. It is open Monday-Saturday lunchtime and offers three meals: breakfast, lunch, and dinner. Lunchtime meals are partially subsidized by ENSTA Paris and the Ecole Polytechnique. Payments can be made with student ID. To load your card, a central payment point is open Monday-Friday 11:30am – 2pm, payment accepted in cash or cheque.
For ENSAE, Télecom and Télécom Sud Paris students, access to Le Magnan will be at a fixed external student rate of €6, upon presentation of your student card at the restaurant's reception desk.
The Télécom Paris restaurant
From the 4th of November the Télécom Paris restaurant will be open to host all IP Paris students and staff. Located on the ground floor of the new building, it offers a view of the large courtyard.
The Télécom Paris cafeteria
On the ground floor of the building, a new cafeteria is opening in November for a quick meal. There are spaces available to eat in.
« Le Safran », The École Polytechnique cafeteria
« Le Safran » offers a quick dining service, allowing its customers to enjoy a meal "on the go" with a variety of sandwiches, paninis, and salads, or a coffee and pastry.
ENSAE Paris Cafeteria
Located on the ground floor of the building, the cafeteria gives you the chance to quickly grab yourself something to eat on your lunchbreak and to satisfy those hunger pangs during coffee breaks. It also hosts jam sessions organized by the Arts office.
Vending machines in the schools
Vending machines containing confectionary and hot and cold drinks are also available on campus. Payments are made with an ISIC student card which is given to you at the start of the year.
CROUS Food Trucks
Two CROUS food trucks serving burgers and world food operate Monday to Friday from 12pm - 2pm. You will find the burger van in the Vaneau courtyard Monday to Wednesday and at the Levy courtyard Thursday to Friday. The world food van will be at Levy Monday to Wednesday and Vaneau Thursday to Friday.
Panifique Bakery
Located on the outskirts of campus and opposite Telecom Paris, the Panifique Bakery offers classic bakery goods such as bread, pastries and cakes. They also have lunchtime deals on sandwiches, salads, quiches, pizza and drinks. Space is available to eat in.
Living Room – Brasserie
Living Room is a brasserie which offers gastronomic cuisine for lunch and dinner. It is open every day from 12pm to 2pm and from 7pm to 10pm. Address: 10 Boulevard Gaspard Monge, 91120, Palaiseau.
Food Asia – Asian cuisine
Food Asia is an Asian food place offering a wide variety of meals to take away or eat in.
Open 7 days a week from 11:30am to 10pm.
Address: 2 boulevard Gaspard Monge, 91120, Palaiseau.
Supermarket
There is a Franprix convenience food store on campus. In addition to the major national brand names, the store stocks more than 900 own-brand products.
Pharmacies
There are two pharmacies on campus where you can buy medicine both with and without a prescription: Pharmacie de Lozère (a 15-minute walk) or the Pharmacie des Écoles (10 minutes by bus).
Newsagents
There is a bookshop and newsagents chain offering phone top-ups and cultural products. Automatic Free sim card dispensers are also available.
Open Monday-Saturday 7am – 9pm (8am – 9pm on Saturdays).
Address: Boulevard Gaspard Monge, Zone Polytechnique, 91120 Palaiseau.
Concierge services
There are two concierge services on campus:
École Polytechnique: Le Magnan restaurant entrance, Cour Vaneau
ENSTA Paris: lobby, next to the entrance. 
Plateau de Saclay
Urban, modern and attractive, offering many services.
On the Saclay open map you can find: a list of events, cultural places, heritage sites, restaurants, sports and leisure facilities, points which sell local agricultural products, walks and transport networks: http://www.saclay.carte-ouverte.org/
Évry Campus (Télécom SudParis)
Campus Restaurants
The Telecom SudParis restaurant
The restaurant of Télécom SudParis is open from Monday to Friday from 11:30am - 2pm and in the evening from Monday to Thursday inclusive from 7pm - 9pm. It is located in the brand new building U7.
The cafeteria of Télécom SudParis
On the first floor of the NOVA building, the cafeteria welcomes you from 8:00 am - 4:00 pm (except during school vacations). From breakfast to lunch you will find a wide range of savoury or sweet products, homemade sandwiches, hot sandwiches, etc.

Local services
The Évry campus is located near the city center. You have quick access to a large number of services: grocery stores, supermarkets, shopping malls, pharmacies, tobacconists, cinemas, swimming pool, skating rink, ...

Cinemas
You can enjoy the CGR cinema in Évry and the Arcel cinema in Corbeil-Essonnes.