At IP Paris we encourage you to take part in sport and want to make it easy for you, because besides physical qualities, it develops team spirit, perseverance, and the ability to push yourself. You can play lots of different sports in our many indoor and outdoor facilities: tennis, horse riding, football, volleyball, dance, swimming, etc.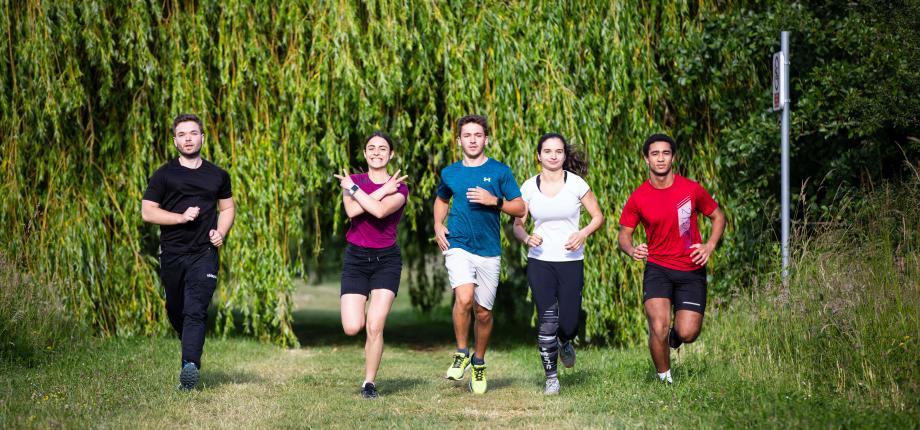 Palaiseau Campus
The sporting facilities on the IP campus are available under different subscriptions to sports clubs, or school associations.
Indoor facilities
gyms
weightlifting rooms
fencing room
25-meter swimming pools
volleyball court
basketball court
handball court
climbing walls
dojo
dance studio
shooting range
A new sports hall that will be accessible to all 5 schools is soon to be inaugurated and will offer access to a weights and cardio room, martial arts studio, a dojo and a boxing ring (kickboxing and standard), among others.
Outdoor facilities
1 riding school with 30 horses
1 400m athletics track
1 semi-artificial lake
1 climbing wall
4 football pitches
3 rugby pitches
8 tennis courts
1 beach volleyball court
1 driving range
Sports itinerary
The IP Paris campus' sports itinerary provides you with plenty of possibilities. You will have the opportunity to keep in shape thanks to the health track or to take advantage of the greenery in the heart of Saclay Plateau, on foot or by bike.
Évry Campus (Télécom SudParis)
Facilities on campus
1 1000m2 gym for indoor sport
3 well-lit tennis courts, open access
1 basketball court
1 beach volleyball court
2 boules pitches
1 outdoor gym
1 weightlifting room and cardio room with quality equipment.
Other nearby sports facilities offered by Évry
2 swimming pools
1 football stadium
1 rugby stadium
1 athletics track
1 dojo 200 meters from campus (Évry judo, SCA2000)
1 gym at Parc des Loges (street hockey court)
1 rowing and sailing club (SCA2000 Evry)
1 golf club at Etoilles (lessons and GreenFee)
1 riding club in Etiolles
and more.
The big sporting events our schools participate in
Coupe de l'X
From the very beginning of the year, this tournament will ignite your passion by bringing together 12 of the best Parisian schools for a fierce fight.
TOSS
The biggest student sport tournament in France. It gathers participants from many engineering schools, business schools and universities from all four corners of France.
Challenge Centrale Lyon
One of the biggest sporting events for students in Grandes Écoles.
GOST
Taking place on our Saclay campus, and organized by SubOptique, it's THE tournament. It aims to promote female athletes in a wide variety of disciplines: volleyball, basketball, tennis and badminton.
Challenge du monde des grandes écoles
A sports tournament combined with meetings with companies. It takes place at the end of the year when you will be able to demonstrate your professional skills and/or sporting talents.
TSGED
The sports tournament for the military academy grandes écoles. 7 disciplines are hosted by the national defense sports center in Fontainebleau and managed by the Antibes Battalion: boxing, orienteering, cross country, horse riding, climbing, football and volleyball. École Polytechnique hosts indoor rowing, badminton, basketball, fencing, handball, judo, swimming, and rugby at Palaiseau. L'École Navale in Brest hosts the sailing.
Mud Race
Every year, the Ecole Polytechnique Sports Training Office organises a land and water obstacle course on the Palaiseau campus, either on your own or as part of a team.
It's a chance for everyone to challenge themselves and get some exercise!
Inter-school tennis tournament
Télécom SudParis and IMT-BS have been hosting an FFT Open tournament since 1999. Since 2021, the Évry campus has also hosted a tournament for IP Paris and IMT-BS students. The finals are usually officiated by Roland-Garros referees!
A number of sporting events have also been organised thanks to the call for student life projects launched in 2020. Here are just a few examples.

Ekiden du Platal
The Ekiden is a marathon relay race for 6 runners over the following distances: 5km - 10km - 5km - 10km - 5km - 7.2km. The route of the Ekiden du Platal passes through the campus of the Institut Polytechnique de Paris and the Forêt Domaniale de Palaiseau.
Students from the five member schools and the Institute are invited to run alongside staff from the schools.

IP Paris'cup
One weekend in June, the École Polytechnique, ENSTA Paris, ENSAE Paris, Télécom Paris and Télécom SudParis come together for a J80 regatta.
Two crews from each school fight for their colours aboard J80s and try to prove who are the best sailors!

Fusion IP Paris
Every year, a BDS from one of the schools organises Fusion IP Paris. This sports tournament, based on the major team sports (rugby, basketball, football, etc.), brings together nearly 1,000 students from the Institute's 6 member schools.
A student evening closes this great inter-school day.
Sports associations
The BDS of the Institut Polytechnique de Paris
The IP Paris Sports Office (BDS) will be set up in the last four months of 2023 to enable students at the Institute to take part in sport throughout their academic career.
École Polytechnique's sports associations
École Polytechnique themselves have many sports associations:
X-Para: X-Para organize and partially subsidize weekends away and parachuting courses for students.
Plongée: In association with the I'X sports club they organize diving expeditions and getting a license.
Montagne: Montagne offers many mountain-based activities such as cross-country skiing, hiking, climbing and of course mountaineering.
Parapente: The Paragliding society organizes paragliding outings for students.
Water-Polo: The association offers water polo activities in collaboration with the I'X Sports club.
X-Circus: X-Circus organizes circus classes, takes parts in events such as Point Gamma and organizes shows every year.
ENSTA Paris sports associations
The sports office (BDS) drives sporting at ENSTA. Among the most active sports associations are:
L'ENSTAQUET Sailing association
The school's sailing club
7 à Paris, the famous international student rugby sevens tournament
Enstartiflette who organize the annual ski trip
For more information and associations go to the sports office website: BDS.
ENSAE Paris Sports associations
The sports office (BDS) is responsible for sports at ENSAE Paris.
Events available include inter-school competitions, official tournaments (challenge centrale Lyon, coupe de l'X, TOSS, Raid, GOST, French student cups), and other smaller scale events: sports nights, sports weekends, friendly tournaments.
Sports associations at Télécom Paris
Lots of clubs and societies offer varied activities to students:
Sailing
Badminton
Handball
Tennis
Volleyball
and more.
Télécom Sud Paris sports associations
ASINT Sports department
Equ'IT Horse riding
Golfclub Golf
Pomp'INT Cheerleading
Xtreme Running