CIEDS and Safran Group discuss Defense research
The CIEDS - Centre Interdisciplinaire d'Etudes pour la Défense et la Sécurité (Interdisciplinary center for Defense and Security) - organized a seminar on January 6, 2023, to discuss future prospects with the Safran group's Research & Technology teams.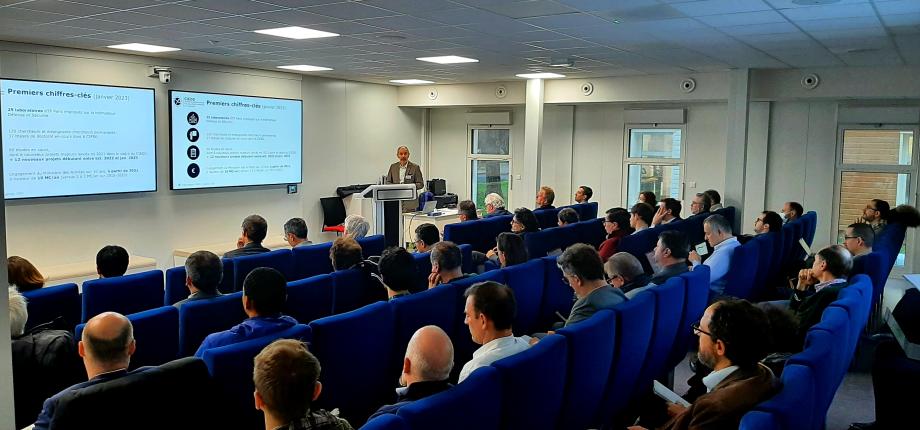 About 15 experts from Safran Tech, Safran Space & Propulsion, Safran Electronics & Defense, Safran Aerosystems and Safran Aircraft Engines took part in the day-long seminar, held on the IP Paris campus in Palaiseau, along with several innovation managers from the French Defense Innovation Agency (AID).
The morning session, held at the Drahi'X Novation Center (the incubator of École Polytechnique), began with presentations of IP Paris' research ambitions in its interdisciplinary centers and the R&T priorities of Safran group entities. During two parallel sessions on "Mechanics and materials" and "Robotics, AI, detection and signal processing", IP Paris researchers presented a dozen projects and topics developed with the support of the AID and likely to interest Safran.
The afternoon was devoted to visits of laboratories and platforms of Institut Polytechnique de Paris (LMS - additive manufacturing, multi-scale characterization platform, and nanocomponent characterization platform -, LULI - laser shock -, OMEGA - CAD and circuit testing -, LPICM - sensor printing -) and ENSTA Paris (U2IS - robotics platform -, UCP - hydrogen platform -, LOA - non-destructive testing platform -).
"I would like to thank all the participants for their involvement. The exchanges were rich and constructive throughout the day. They highlighted the diversity of work within the IP Paris laboratories in the defense field. I'm convinced that we've brought out many structuring common interests between CIEDS and the Safran group," said François Plais, Director of Operations at CIEDS.