Over the past three centuries, our five Schools have contributed to major scientific discoveries and technological breakthroughs. The high quality of research at the Institut Polytechnique de Paris is based on an array of disciplinary expertise that seeks to push the limits of knowledge, the pooling of this expertise through collaborative organizations and the development of research facilities.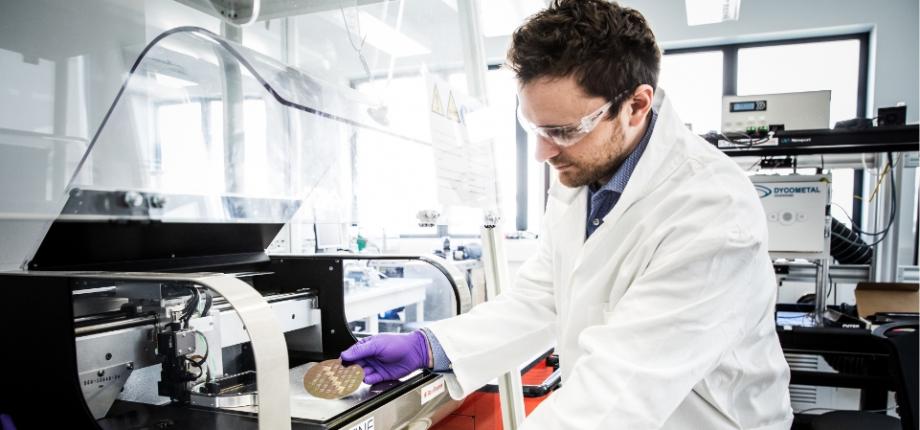 Key figures:
30 research laboratories
55 education & research chairs
950 PhD students
230 Post-doctoral fellows
2500 Publications per year
1000 faculty members
In addition to these recognized branches, the interdisciplinary approach promoted by the development of the Institut Polytechnique de Paris makes it possible to tackle problems from different perspectives. By bringing together their various viewpoints, expertise and methods in a spirit of open-mindedness, researchers provide complementary original and innovative solutions to the major societal issues and scientific questions of our time.   
Research at the heart of education and innovation
The Institut Polytechnique de Paris has adopted an integrated approach to research, education and innovation. It welcomes and trains numerous PhD students, preparing them to become leaders in research and the industry of the future. Through its PhD Track, the Institut Polytechnique de Paris welcomes talented young students following their Bachelor's degree, introducing them to research and accompanying them through to PhD level. 
Top-level research in major disciplinary fields
Together, our Schools develop cutting-edge fundamental and applied research through ten education and research departments which coordinate the activities of its five Schools. At its thirty laboratories located on campus, the Institut Polytechnique de Paris carries out large-scale projects at the forefront of current knowledge leveraging the expertise of its research teams and state-of-the-art equipment.
Learn about our 10 education and research departement
Research in close partnership with national research organisations
Institut Polytechnique de Paris Schools have developed research laboratories by forming key partnerships with national research organizations. With 24 of our 30 research laboratories jointly run by the CNRS, it is our most prominent research partner. We also have close partnerships with Inria, CEA, Inserm and ONERA. And naturally, over the years our Schools have also formed close ties with Université Paris Saclay laboratories, in particular through the Investissement d'Avenir (Future Investments) Laboratories of Excellence (LabEx) Program.
Interdisciplinary research to address global issues
In order to achieve its ambitions and expand its funding opportunities,  the Institut Polytechnique de Paris is also developing research at its interdisciplinary centers to provide concrete solutions to current and future global challenges. The Institut Polytechnique de Paris has first focused on creating interdisciplinary centers for energy and the climate, AI and data analysis, biomedical engineering, defense and cybersecurity. Other fields, such as quantum technologies, will be introduced at a later stage.
Partnership research and comporate sponsorship programs
The member Schools of the Institut Polytechnique de Paris have formed close relationships with national research organizations, in particular the CNRS, CEA, Inria, Inserm and ONERA. They also conduct partnership research with companies from a wide range of industries. In addition, funding for a number of the education and research programs offered at the Schools is provided in the form of chairs or sponsorship programs, through the generous support of corporate partners.
Research set in an extraordinary ecosystem
The Institut Polytechnique de Paris organizes its research on a campus located in the heart of the Plateau de Saclay, just outside Paris. The Plateau de Saclay is a vibrant and extraordinary ecosystem, home to numerous education and research institutions as well as corporate research facilities.