Minister Sylvie Retailleau visits Institut Polytechnique de Paris
French Minister for Higher Education and Research Sylvie Retailleau visited the campus of Institut Polytechnique de Paris on Friday, September 1. She visited the Drahi X-Novation Center, the École Polytechnique incubator, and Télécom Paris. Also, the Minister met with students, PhD students, researchers, teachers and entrepreneurs from IP Paris and its 5 member schools.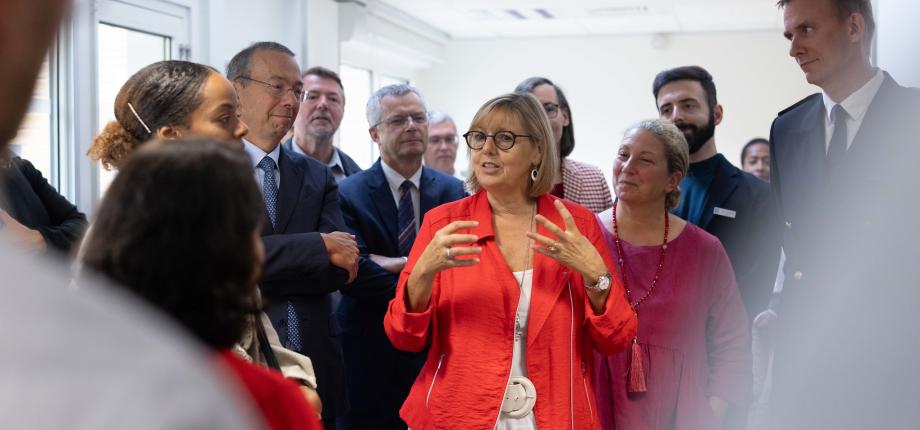 Sylvie Retailleau, Minister of Higher Education and Research, focused her visit on the achievements of Institut Polytechnique de Paris in the fields of teaching, research and innovation. She was welcomed at the Drahi-X Novation Center, École Polytechnique's incubator, where she was able to discover the X-FAB, a place where training, research and entrepreneurship converge, where some 50 cutting-edge machines are deployed over a total area of 1,000 m² within the École Polytechnique incubator. Sylvie Retailleau discussed with some of the entrepreneurs and researchers present, who introduced her to a number of innovative projects.
The Minister also had the opportunity to discover IP Paris' six interdisciplinary research centers. Since the launch of the Institute, six centers have been created to address the major economic and societal challenges of tomorrow. These centers include Energy4Climate - E4C, which will focus on climate issues in partnership with Ecole des Ponts in 2019, Hi! PARIS, which focuses on AI and data issues in partnership with HEC in 2020, CIEDS, which addresses defense and security issues with the support of the French Ministry of the Armed Forces in 2021, Engineering for Health - E4H, which looks at health issues in 2022, Materials for Society - M4S, which focuses on materials, and SPIRAL (Science, People, Imagination, Research, Art, all Linked!), which explores the links between the arts, science and society, created in 2023.
The visit continued at Télécom Paris, where the Minister attended a presentation on AI and medical imaging research.
Throughout her visit, the Minister also took the time to meet, exchange ideas and answer questions from students and PhD students at IP Paris and its five member schools on the pursuit of PhD studies, the promotion of PhDs, campus life, equal opportunities and the future of scientific training.