LivingLab E4H: a prototyping space dedicated to open innovation in bioengineering
Aimed at bioengineering companies, & startups as well as researchers and students of the Institut Polytechnique de Paris, the LivingLab E4H is a project led by IP Paris interdisciplinary Engineering for Health (E4H). Inaugurated on February 17 at the Drahi-X Novation Center, It offers scientists from all backgrounds and all levels of experience the opportunity to rapidly experiment new concepts for new medicines that could lead life-changing innovation.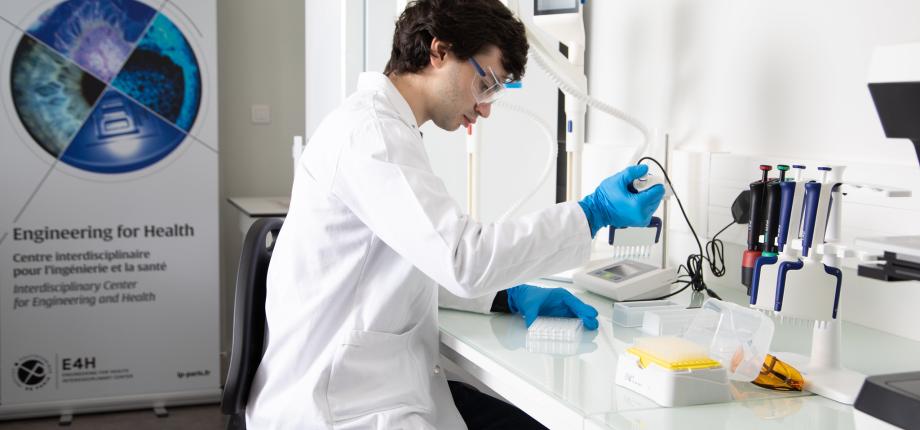 The E4H LivingLab is located in the X-FAB prototyping space of the Drahi-X Novation Center (École Polytechnique's entrepreneurship and innovation center). It is equipped with state-of-the-art bioengineering prototyping facilities and shared workspaces to foster an open innovation approach.
Through this new space, the Egineering for Health (E4H) Interdisciplinary Center aims to help new projects emerge, accelerate existing projects and initiate collaborations with a view to launching startups and deploying new bio-technology solutions. 
The launch of the E4H LivingLab is part of the BERTIP Biomedical Engineering Training Program - whose partners are IP Paris, École Polytechnique, Télécom Paris, Télécom SudParis, ENSTA Paris, CNRS, Inria, Inserm and the Paris Saint-Joseph Hospital Group, which is funded by the ANR University Research School (EUR) as part of the France 2030 plan.  
"The E4H LivingLab has been designed as a creative space for life sciences and biomedical engineering that allows new ideas to be tested as quickly as possible thanks to easy access to a laboratory workspace equipped with cutting-edge tools and an open innovation approach that includes startups, researchers and students," insists Abdul Barakat, Co-Director of the E4H Center. "Through the E4H LivingLab and its presence in the Drahi-X Novation Center, we want to open a new innovation channel that is immediately open to the world of entrepreneurship and that accelerates the transformation of scientific discoveries into innovations for the life sciences and health.
For Bruno Cattan, Director of Business, Entrepreneurship and Innovation at École Polytechnique, "the arrival of the E4H LivingLab at the Drahi-X Novation Center is an important event for our center. The LivingLab enriches the promise of technological support for the startups we incubate, many of which are in the health sector. The establishment of the LivingLab within the X-FAB also illustrates the Entrepreneurship and Innovation strategy of the Institut Polytechnique de Paris and the synergies between our support services and the scientific skills of our interdisciplinary centers, which we will continue to strengthen.