Operation CIEDS 2023 : A video review of the highlights
Opération CIEDS 2023 brought together over 200 participants from the worlds of science, innovation and industry. The day provided an opportunity for exciting encounters between the guests, as they discussed their achievements and projects in the field of defense and security.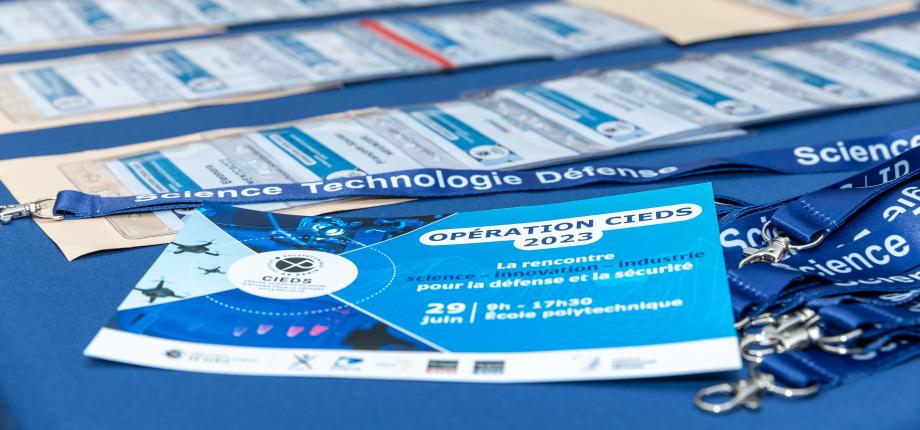 Organized by the Institut Polytechnique de Paris and its partners, Operation CIEDS took place on June 29 on the École Polytechnique campus. Over 200 participants attended: researchers, doctoral and post-doctoral students from IP Paris laboratories, members of the Ministries of the Armed Forces and the Interior, companies including start-ups, and innovation intermediaries.
CIEDS projects combine fundamental and applied research in close collaboration with industry, to develop disruptive technologies with high added value for defense, with the support of the French Ministry of Defence and the Defense Innovation Agency.
A number of themes were addressed during a round table, workshop presentations and poster session: Technological Sovereignty and Defense Strategy; Mechanics, Materials and Energy; Sensors, Robotics and AI; Communications and Security; Health and Biology.
CIEDS congratulates the 44 participants in the CIEDS 2023 poster competition.
1st prize: Katia AIT AMEUR "Numerical methods for multi-scale two-phase models".
2nd: Rodolphe Grivet "Liquid spreading arrest by crystal growth".
3rd : Cristina Cheibas "Study of omniphobic treatments for textiles".
CIEDS invites you to watch a video review of the day's highlights, including several testimonials from members of the CIEDS community:
See you next year for Operation CIEDS 2024!