Launch of the « Executive MSc in Cybersecurity » program
A month ago, Institut Polytechnique de Paris (IP Paris) and Orange announced the launch of the first "Executive MSc in Cybersecurity" program dedicated to cybersecurity operational managers. In a context where cyber-attacks are increasing, the cybersecurity ecosystem is experiencing a strong growth in terms of activity and resources.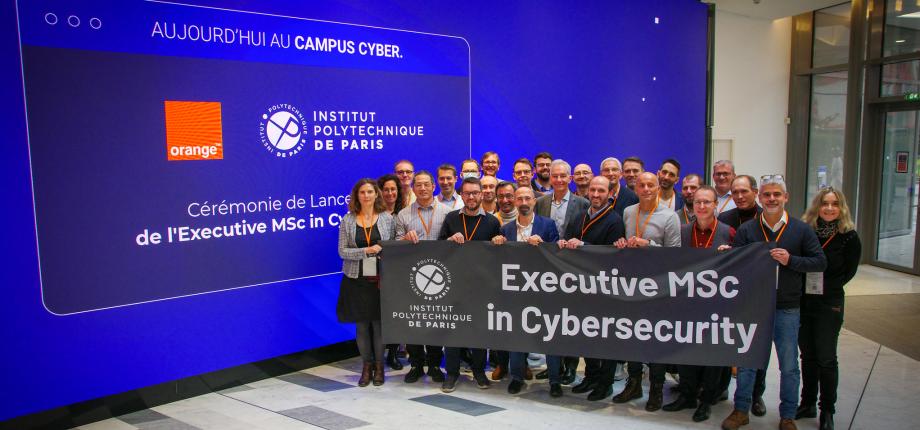 To support this growth, the Executive MSc in Cybersecurity was launched, developed by IP Paris and Orange Campus Cyber, the School by Orange dedicated to cybersecurity training. This program for companies in France is part of the partnership signed in March 2022 between Orange Group and Institut Polytechnique de Paris. One of the goals of this agreement "is to train executives to answer the needs of the current and upcoming market" explains Eric Labaye, President of Institut Polytechnique de Paris.
"This program illustrates the will and ambition of Orange, the European leader in cybersecurity services with its subsidiary Orange Cyberdefense, to join hands with partners of excellence to develop the skills of those who, tomorrow, will help to create a safer digital society." This Executive MSc's degree is based on the expertise of faculty members from École Polytechnique, Telecom Paris, Telecom SudParis, and Orange Group cyber professionals as well as industrial partners in the sector of cybersecurity. Today, it is necessary for companies to ensure that their employees are at the forefront of developments in the field and can develop advanced cybersecurity expertise.
Key information on cybersecurity in Europe:
Among Europe's actions: the program for a digital Europe with a global budget of €7.5 billion, aims to strengthen the Union's digital sovereignty and will finance European projects in four areas: Supercomputers, Artificial Intelligence, Cybersecurity and Advanced digital skills.
75,000 jobs are to be filled in France by 2025 in the field of cyber (according to Orange data) and cyber risks and threats are constantly increasing. It is also affecting the public sector (strong increase in attacks since this summer): schools, health institutions and public administrations.