The 2023 E4H Annual Forum brought together over 200 participants to discuss major issues in the field of life sciences and health. 34 prizes and scholarships were awarded. Discover the winners.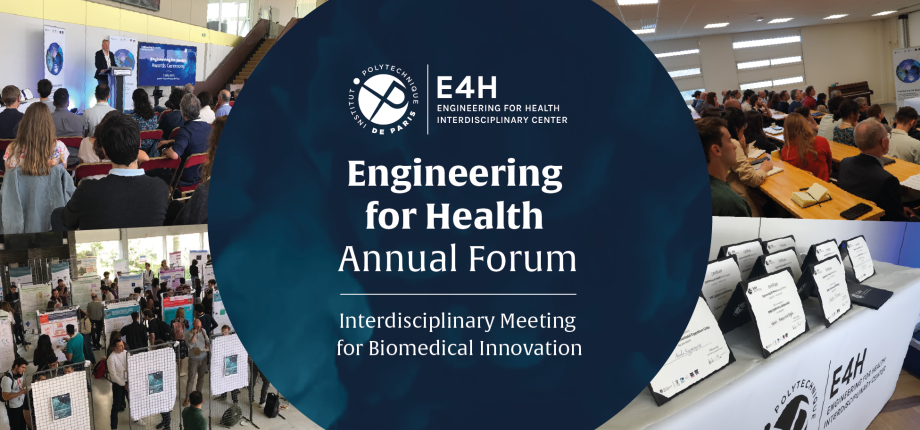 The E4H 2023 Annual Forum was held on July 5 at Ecole polytechnique. Over 200 participants gathered to discuss the life sciences and healthcare research projects underway at IP Paris and its partners. Presentations and round-table discussions focused on topics such as the surgery of the future, infectious diseases, cancer, antibiotic resistance, archaea and digital twins in health.
Click here for the day's program
Over 40 posters were presented during the poster session. The 6 best were selected by a jury and their authors rewarded.
The Forum ended with an awards ceremony. 34 prizes and scholarships were awarded, for a total amount of over 1.1 million euros, thanks to the financial support of the Agence nationale de la recherche, the Fondation de l'Ecole polytechnique, the Fondation Bettencourt Shueller and Mr. Serge Shoen.
Discover the complete list of winners of the Annual Forum 2023:
BME Seed Grants
Benoit Schneider, as first ingestigator, and David Devos, as co-investigator, for the project: Targeting PDK1 kinase to calm inflammation in Amyotrophic Lateral Sclerosis: towards new therapeutic strategies
Julien Nicolas, as first ingestigator, and Julien Stirnemann, as co-investigator, for the project: Development of Injectable Polymer Prodrug Assemblies for the Intrauterine Treatment of Congenital Cytomegalovirus Infection
Willy Supatto, as first ingestigator, and Virginie Lambert, as co-investigator, for the project: MINIHEART PROJECT: An all-optical strategy for live imaging and manipulation of human cardioids to investigate cardiac regeneration after injury
Irène Vignon-Clementel, as first ingestigator, and Pablo Bartolucci, as co-investigator, for the project: Impact of hemodynamics shear forces on sickle cell disease-related cerebral vasculopathy development
Jing-Rebecca Li, as first ingestigator, and Anne Kerbrat, as co-investigator, for the project: Investigation of potential biomarkers to detect chronic inflammation in Multiple Sclerosis through diffusion MRI
Serge Schoen New Synergies Grants
Jocelyne ARQUEMBOURG, Anne Chantal GOUGET, Hannu MYLLYKALLIO for the project: Interdisciplinary Fighting Against Antimicrobial resistance (AMR) 
Gabriel AMSELEM, Alistair ROWE for the project: The common clean room facility at Ecole Polytechnique
Medical Fellowships
Alexandra HAUGEL, under the supervision of Abdul BARAKAT for the project: Patient-Specific Biomechanics of Thoracic Endovascular Aortic Repair
Benjamin MEMMI, under the supervision of Jean-Marc ALLAIN for the project: Comparison of in-vivo and ex-vivo measurements of corneal mechanical properties: application to myopia treatment
Postdoctoral Fellowships
Yunlong HE, under the supervision of Pietro GORI for the project: Separating Healthy from Pathological Patterns in Neuroimaging
Kateřina ŠKARDOVÁ, under the supervision of Martin GENET for the project: Multiscale Modeling and Simulation of REMODELing in Pulmonary Fibrosis
BME Conference Fellowships
Alice PEYRAUT, Limei ZOU, Ali KESHAVARZI, Michail CHATZIANASTASIS, Giulia MERLINI, Johannes LUTZEYER, Weiqiang LIU, Yanan WANG, Bahar ASADIPOUR, Jérôme DIAZ, Jessica MANGANOTTI, Valentin BONNET, Mahdi MANOOCHEHRTAYEBI, Ioannis NIKOLENTZOS, Julia FERRER ORTAS
BME PhD Student International Experience Awards
Aude SAGNIMORTE, Bertand MARCHAND
Best Posters Awards
Mahdi Rezaei Adarian, Maxime Mauviel, Hugo Blanc, Solène Prudhomme, Giulia Cardillo, Ali Keshavarzi