Viktoria Zakharova, PhD track student in plasma physics
Viktoria Zakharova shares with us her experience in Master 1 and her initiation to research in the Laboratory of Applied Optics (LOA)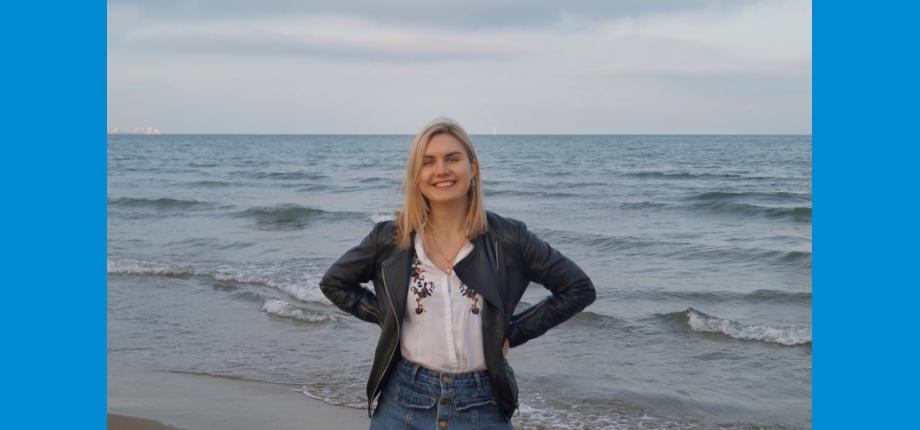 More and more foreign students are coming to study at the Institut Polytechnique de Paris (IP Paris), which is pursuing a policy of international openness, innovating and expanding its training offer. For example, the PhD track was recently launched on the Anglo-Saxon model. Viktoria Zakharova, a Russian student, was one of the first to join the PhD track in plasma physics and was selected for an M2 grant from the PLASMAScience Graduate Schooll.
Viktoria, could you introduce yourself and tell us a little about your background? Why did you choose this program in physics?
I am 22 years old. I was born and bred in Russia, more precisely in Kovylkino, a small town in the Republic of Mordovia. At school I had an extraordinary physics teacher who made me want to study this subject. Then I participated in various physics competitions for schoolchildren in Russia. Having won prizes, I was invited to join a school specialized in mathematics and physics in Saransk, the capital of Mordovia. It is one of the most selective colleges in Russia in these disciplines attracting children from many regions. I studied there for 4 years in a boarding school like some of my classmates. I had great teachers who trained me for various national competitions in physics. Thus, I became a laureate of the National Olympiad in physics, the most important competition for Russian high school students.
After high school, I entered the Moscow Institute of Physics and Technology (MIPT), a renowned institution in the field of physics, where I obtained my Bachelor's degree. Note that in Russia the Bachelor's degree takes 4 years to complete. In the 4th year, I wondered about the continuation of my studies and I started to inquire about the different existing possibilities. I applied to various European programs and my choice finally fell on the PhD track in plasma physics at IP Paris.
How did you find out about this program, did someone guide and advise you in your research?
Nobody guided me, I was looking for everything myself on the internet. I heard about the Ecole Polytechnique in France and its reputation, I knew that it offered a program for engineers and I discovered the PhD track at IP Paris. This program interested me because of its original format "à la carte" and its "research" orientation.
You were selected by IP Paris for the quality of your academic background. Did other European programs respond positively to you? And if so, did you have any hesitation in making a definite choice?
Yes, I received several proposals, so I had to choose and the choice was hard. I had a very good offer in Germany with a research grant from the DAAD (the German Academic Exchange Service). As for France, I had the choice between the Ecole Normale Supérieure and the IP Paris. In the end, I chose IP Paris. The person who influenced my choice is the one who has since become my tutor at IP Paris, my scientific supervisor: Sébastien Corde (LOA). He contacted me after I submitted my application and during our discussion, he convinced me to choose the Institut Polytechnique de Paris.
Did the other proposals offer a similar program format?
No, they were rather classical Master's programs, with compulsory courses and options to choose from, but which did not devote any time to research. Whereas here, in the PhD track, you can take research hours instead of taking theoretical courses validating the ECTS. Moreover, in this program, the student is accompanied by a tutor who guides him in the choice of courses and in the research part. I am lucky to have a great tutor! It is very interesting to work with Sébastien Corde, I like the projects he proposes, I appreciate his follow-up and his support. I am very grateful to him, he even helped me with the administrative procedures, which is not easy for a foreign student. It's reassuring, because you know you have someone you can turn to.
So, tutoring is one of the keys to the success of this program, especially in the context of today's COVID...You know, France was inspired by Anglo-Saxon PhD track. Did you look for this type of program in the United States?
To be honest no, I didn't even look for it. I've never been to the United States...and besides, it's very far from my home.
And you weren't afraid to come to France without speaking French?
No, I was not afraid, even though I don't speak French. Rather, it was my parents who were worried. I knew that the classes would be taught in English, and I didn't worry about my level of English. As for French, I think you can always learn a language!
Did you immediately understand that the Ecole Polytechnique and the Institut Polytechnique de Paris are located in Palaiseau, a few kilometers from the capital?
Yes, I saw right away that Palaiseau is 16 km away from Paris...It's funny, because I was in a similar situation when I left high school. I had the choice between a very good university in the heart of Moscow and MIPT in the suburbs of Moscow. Finally, I chose MIPT which is located in the city of Dolgoproudny, more than 20 km from Moscow. The value of the program was more important to me than the geographical location
It's true that after 4 years in a Bachelor's program, I was a little tired of living in the suburbs all the time... So, yes, I was hesitating between the ENS in the center of Paris and the lP Paris in the heart of Palaiseau. After a long reflection, I said to myself that the location remains a secondary criterion, it is the content of the program that counts. I can always go for a walk in Paris. In fact, in September, when I arrived, I visited the capital (the Eiffel Tower, the Montmartre district, etc.), at the time you could still walk around and have a coffee on the terrace...
At the same time, it is convenient here, it is a real campus, there are schools, student residences, canteens, sports facilities ... And the park ...
Indeed, everything is nearby. I'm housed on campus. When you have to go to class or to the lab, you are there in 10 minutes. You don't waste time in transportation...
How did your integration go? Have you made any friends?
In fact, in today's health context, it's not easy. It's complicated, we don't see each other face to face. Our courses are online. Unfortunately, all planned events are cancelled. Nevertheless, I managed to make friends with the PhD track students, we met at the very beginning of the year, in autumn, during a meeting for students of all specialties (artificial intelligence, biology, physics etc.). There are many international students (Germany, Brazil, Iran, Russia etc.).
Do you enjoy studying? The Ecole polytechnique and the Institut Polytechnique de Paris are known for their demanding level of studies. If you compare with Russia, does the level seem different to you?
I would say the approach to teaching is different. Anyway, I can only speak about my experience at MIPT. Here it is more complicated for me than in Moscow, because it is another country, another language, another culture. For example, I am used to oral exams in Russia, here everything is written. A written exam is more stressful for me than an oral exam: time is limited, I have to do it quickly, I have no right to make mistakes. The oral exam in Russia is a calm discussion without hurry. At the same time, the French written exam is anonymous and perhaps excludes the subjective factor that the teacher may have on you. Finally, I really like my studies here, I appreciate the approach of the professors and the content offered. The level is demanding and I have to make an effort. That's also what I like. You have to work and I am happy about that, because I feel I am progressing.
The idea of the PhD track is to lead the student to the thesis. Do you already have an idea of your research topic?
Yes, the subject that interests me is the acceleration of particles in plasmas. When a plasma is illuminated with a laser beam or with a beam of particles, processes are set in motion that accelerate the particles in the plasma. Why is this technique promising? Because conventional particle accelerators (such as the Large Hadron Collider) require gigantic facilities (over 20 km). It is difficult to have such accelerators, whereas in plasmas we can accelerate particles using much smaller facilities. This partly explains the attraction of this type of technology.
What are your plans for next year?
I will continue in Master 2 "Physics by Research". It is a logical continuation of the M1 PhD track with the same "à la carte" approach. It allows you to combine courses from different programs. For example, we can take half the courses in plasma physics, half in optics. I only hope that the courses I will choose can be taught in English.
April is the beginning of the internship period for M1 students. Which internship have you chosen?
Indeed, we have to do an internship of 16 weeks minimum. PhD track students can do their internship anywhere, in France or abroad, in a research laboratory or in industry. It all depends on the student's desire. I chose to go to Switzerland to discover another French-speaking country. I contacted a few laboratories that interested me. Finally, I'm doing my internship at the Ecole Polytechnique de Lausanne (EPFL) which has a plasma research center. As the health situation is less tense in Switzerland, the internships are maintained.
What are your career plans?
I want to become a scientist, researcher and also a teacher. I like teaching very much, I like learning and transmitting. I continue to give distance learning courses to Russian children who are passionate about physics. I prepare them for their competitions. It is my hobby. For me, physics is not only a scientific field, it is also a way to train your brain to develop a real intellectual flexibility. As one of my professors in Russia said with a touch of humor: "You can teach economics to physicists, but you can't teach physics to economists".