BME Design Project 2022/2023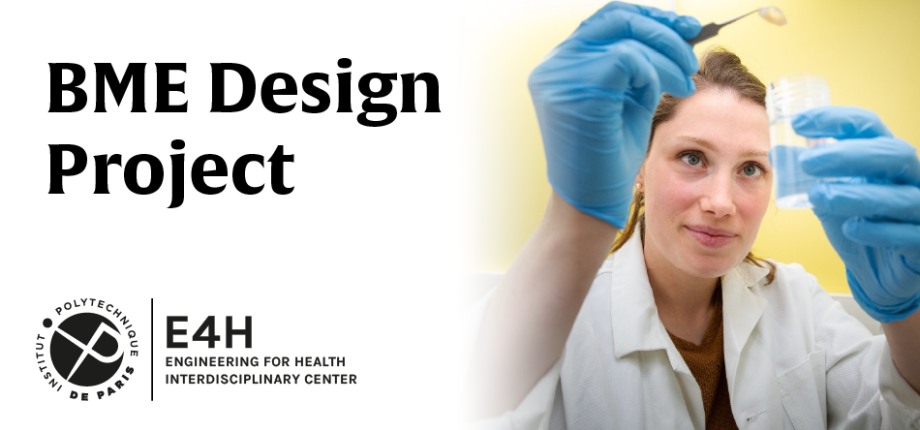 As part of the Biomedical Engineering (BME) master's program, Institut Polytechnique de Paris is calling on researchers, doctors, start-ups and industry to propose ideas for BME design projects..
Over two academic semesters, BME student groups work on your open-ended BME design problem, guided by one or more BME faculty, industrial sponsors, and/or clinicians.
The character of the projects is highly variable and may include theoretical studies, computational simulations, device design, and/or prototype development.
The BME Design Projects are intended to provide students with the opportunity to apply their training towards the development of innovative solutions that meet real medical needs.
We encourage faculty, industrial partners and clinicians to submit project ideas to this program.  
To work on the Design Projects, BME students have access to a broad range of campus experimental and computational resources including an extensive prototyping facility.
Application Submission procedure
The application, written in English, consists of the following:
A cover page containing the project title, the project objective (brief description of the desired outcome), and the name and affiliation of the applicant
Project description (maximum 2 pages)
Materials, services, and resources available to the students for the project
Relevant literature sources including journal articles and/or websites
Application Timeline
Application should be submitted electronically as a single PDF file by Sunday September 18, 2022.
Selection Criteria
Before the beginning of the semester, the BME faculty will review the submitted project ideas. The proposal should contain a clear feasible desired outcome aimed at the design and development of a medical or biological device, medical simulation model, or a physical tool to assist in research and/or medical practice.
The approved projects are made available to the students at the beginning of the academic year. Once a match between the proposed project and a student team is established, the team will immediately contact the industrial/medical partner to initiate the collaboration. There is no guarantee that all proposed projects will be selected. If a particular project is not selected, the industrial/medical partner should feel free to resubmit it for the following academic year.
Industrial/medical partner obligations
The selected partners are expected to provide the following to the student team:
Time and attention, either in person or electronically. Partners should meet with their student teams frequently (at least 4 hours per month)
Guidance and compliance regarding all of the appropriate hospital or industry safety protocols if applicable
Financial support for necessary materials and supplies if the cost exceeds 500 €
Other resources including information, access to existing equipment, technician time, etc.
For further information, please contact Silvia Corsini: silvia.corsini@polytechnique.edu